Dr Arjun Srirampur MS(Ophthal), FRCS(Glasgow, UK), FCAS(LVPEI)
Specialist in Pediatric Ophthalmology
Shree Meenakshi Eye Hospital, Best Eye Hospital in Nallakunta, Hyderabad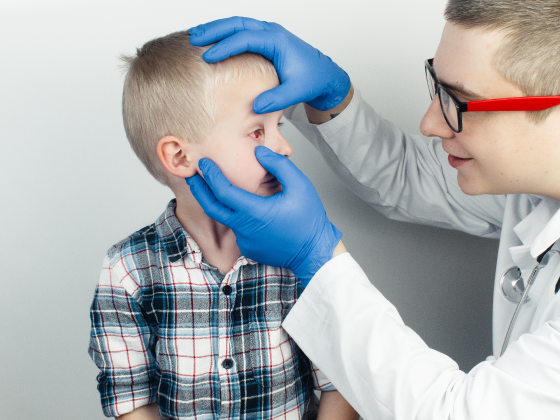 Shree Meenakshi Eye Hospital in Nallakunta, Hyderabad. Expert in pediatric ophthalmology.
If your children are facing any eye issues or if your child's eyes and vision is not developing properly, early treatment is critical to restore and maintain good vision. They may need to see a pediatric ophthalmologist.

Children have a wide range of eye problems, many of which are distinct from adult eye diseases.
Pediatric ophthalmologists are specially trained to treat disorders like amblyopia, strabismus, infections, pediatric glaucoma/cataracts, abnormal vision, ptosis, blocked tear ducts, nystagmus and many other disorders in children.

Developing vision in kids is more susceptible to eye diseases Infections, refractive errors, and misaligned eyes can all cause vision problems if they are not treated.

Healthy vision can be developed by detecting and treating issues early.
Dr Arjun Srirampur MS(Ophthal), FRCS (UK), FCAS (LVPEI) Pediatric ophthalmologist is qualified to perform complex eye surgery as well as to manage children's eye problems using glasses and medications.

Dr Arjun Srirampur, best pediatric Ophthalmologist at Shree Meenakshi Eye Hospital has great experience and provides the best treatment for your children vision.

Our specialized doctor provides surgery to treat children and teenagers who have cataracts, crossed eyes or intraocular tumors.

Give your children a great vision by opting our eye specialist services.
To get your children treated early, please book an appointment online or by phone today.