Dr Arjun Srirampur MS(Ophthal), FRCS(Glasgow, UK), FCAS(LVPEI)
Specialist in Computer Vision Syndrome Treatment
Shree Meenakshi Eye Hospital, Best Eye Hospital in Nallakunta, Hyderabad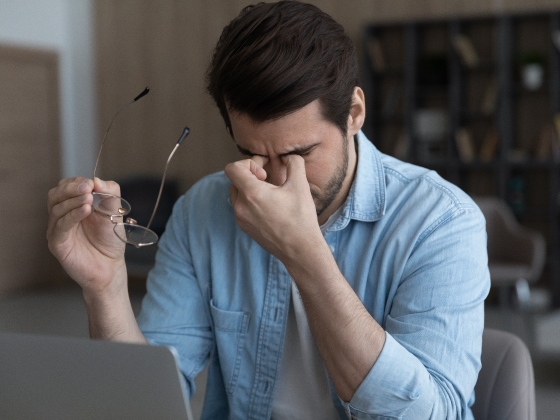 Shree Meenakshi Eye Hospital in Nallakunta, Hyderabad. Specialist in Computer Vision Syndrome Treatment

CVS (Computer Vision Syndrome) is a relatively new condition that has come up now a day as more and more people are spending lots of time every day in front of computer screens.

Both children and adults can have symptoms of Computer Vision Syndrome.

This syndrome develops because of continuously focusing on computer screens every day. Use of e-readers and smart phones may also cause these problems.

Computer Vision Syndrome Symptoms include non-eye symptoms such as neck and shoulder pain.

Eye related symptoms like blurred vision, headache, strain & discomfort of eyes, dry eyes etc.

These symptoms don't show any affect in initial stage, but quickly worsen with time and cause other eye related issues, we neglect to treat them.

Dr Arjun Srirampur MS(Ophthal), FRCS (UK), FCAS (LVPEI) specialist at Shree Meenakshi Eye Hospital in Nallakunta, Hyderabad. offers a wide range of services that help to examine and treat Computer Vision Syndrome. He uses world class equipment with advanced technology for best treatment.

Don't put off treatment if you have Computer Vision Syndrome symptoms. Dr Arjun Srirampur will clinically diagnose your vision related problem and prescribe you the best treatment.

For an early and effective treatment. Please book your appointment online or by phone today. Do not delay to get your eyes treated.